There are times when a thriller manages to keep you on the edge of your seat! 'The French Connection', based on the book written by Robin Moore, is one such classic American drama that takes you back to the old days when cops chased crooks in ancient cars with thrills and lots of action.
The story is about two New York Police Department detectives Jimmy "Popeye" Doyle, played by veteran actor Gene Hackman and his partner "Cloudy" Russo, played by Roy Scheider, who manage to narrow down on a big narcotic deal that is going to take place in the city. The dialogues in the movie bring out the true cop-crook relationship. The action sequences are good and depict heroism and bravery. The plot revolves around the chase of the car carrying a large shipment of pure heroin that is to be transported from Marseilles to New York City.
The background score doesn't really stand out. The cinematography is excellent especially during the film's high point, a high-speed car chase with Popeye following an elevated train to get hold of Nicoli who previously attempts to assassinate Popeye. The film picks up pace towards the second half and goes great from the point senior federal agent Mulderig joins the detective duo in the investigation. The last ten minutes of the movie steal the show where in Alain Charnier, the mastermind behind the deal, manages to escape into an old warehouse. Popeye and Cloudy follow him. Popeye sees a shadowy figure and fires his revolver. However, the person he kills is not Charnier but Mulderig. The French Connection is full of suspense and an absolute-must-watch. The year 1972 saw the film bag Academy Awards for Best Actor (Gene Hackman), Best Director, Best Film Editing, and Best Adapted Screenplay.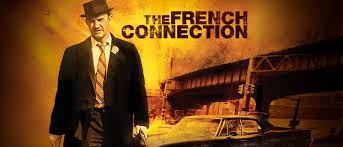 Image source: Google Images